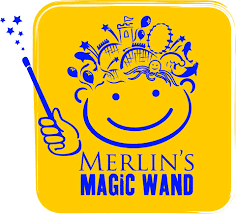 Merlin\'s Magic Wand Charity
Run For Merlin\'s Magic Wand Charity
Rachel Rawlings
01202492920
Merlin's Magic Wand is a children's charity that supports children facing challenges of serious illness, disability or adversity around the world.
The Charity makes FUN accessible to children with three Magic Spells: "Magical Days Out" providing tickets and contributing towards a travel grant for families to enjoy their day at a Merlin Entertainments' attraction; "Merlin's Magic On Tour" working with our local communities at hospitals and hospices to bring the magic to the children wherever they are; and "Merlin's Magic Spaces" designing and creating amazing projects in hospitals, orphanages, learning Centres and more all around the world.
Merlin's Magic Wand is a charitable trust registered with the UK Charities Commission, registration number 1124081. Merlin's Magic Wand Trustees Limited is a company incorporated in England and Wales with registered number 06511344.
Magic Wand by fundraising or donating.